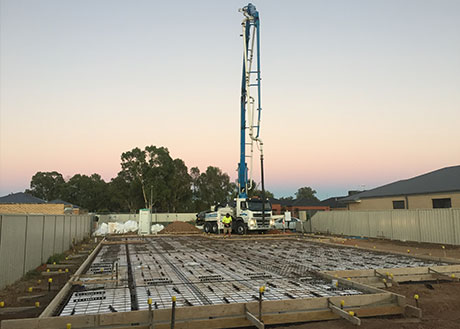 The organization of a concrete pour can be daunting and overwhelming at times. Our aim is to make this process as simple as possible. Our management and staff have extensive onsite experience and we can visualise your job sites individual needs.
At PJ's Concrete Pumping we can go the next step further than other companies and assist you with the coordination of concrete and also refer concrete plants and concreters in different areas.
With our experience and expertise in the concrete industry we will make sure your pour goes as smoothly as possible.
There are two types of concrete pumps, Boom pumps and Line pumps. Boom pumps are the most efficient method of placing concrete given the correct site conditions. Boom pumps are a crane like pump which are required to setup the outrigger legs on firm and stable ground, the ground needs to be relatively flat and the boom needs room to open up and be free from obstructions like power lines and trees.
Line pumps are the most versatile type of concrete pumping. Narrow lane ways and low head room areas give Line pumping an advantage. The distance of Line pumping is almost endless.